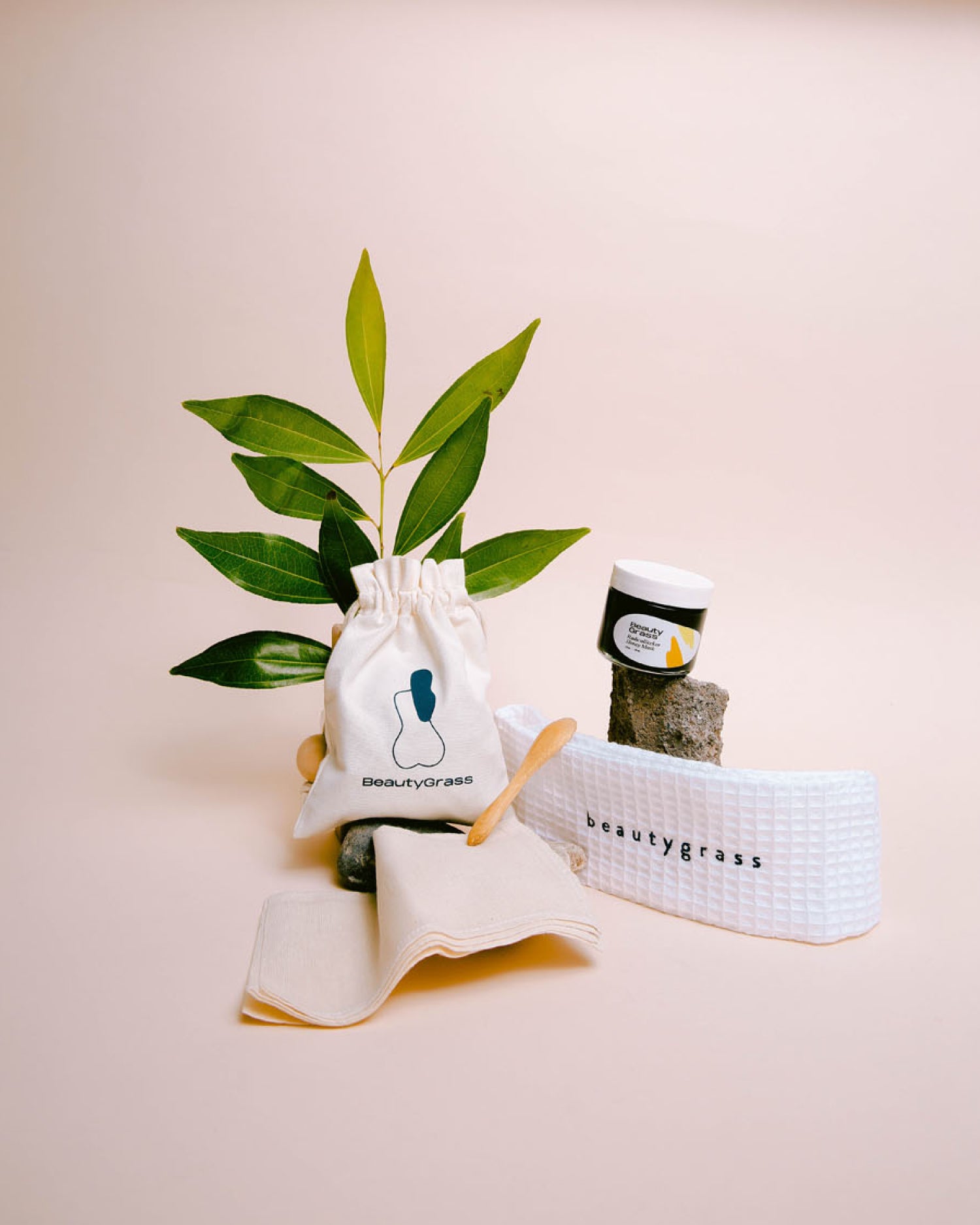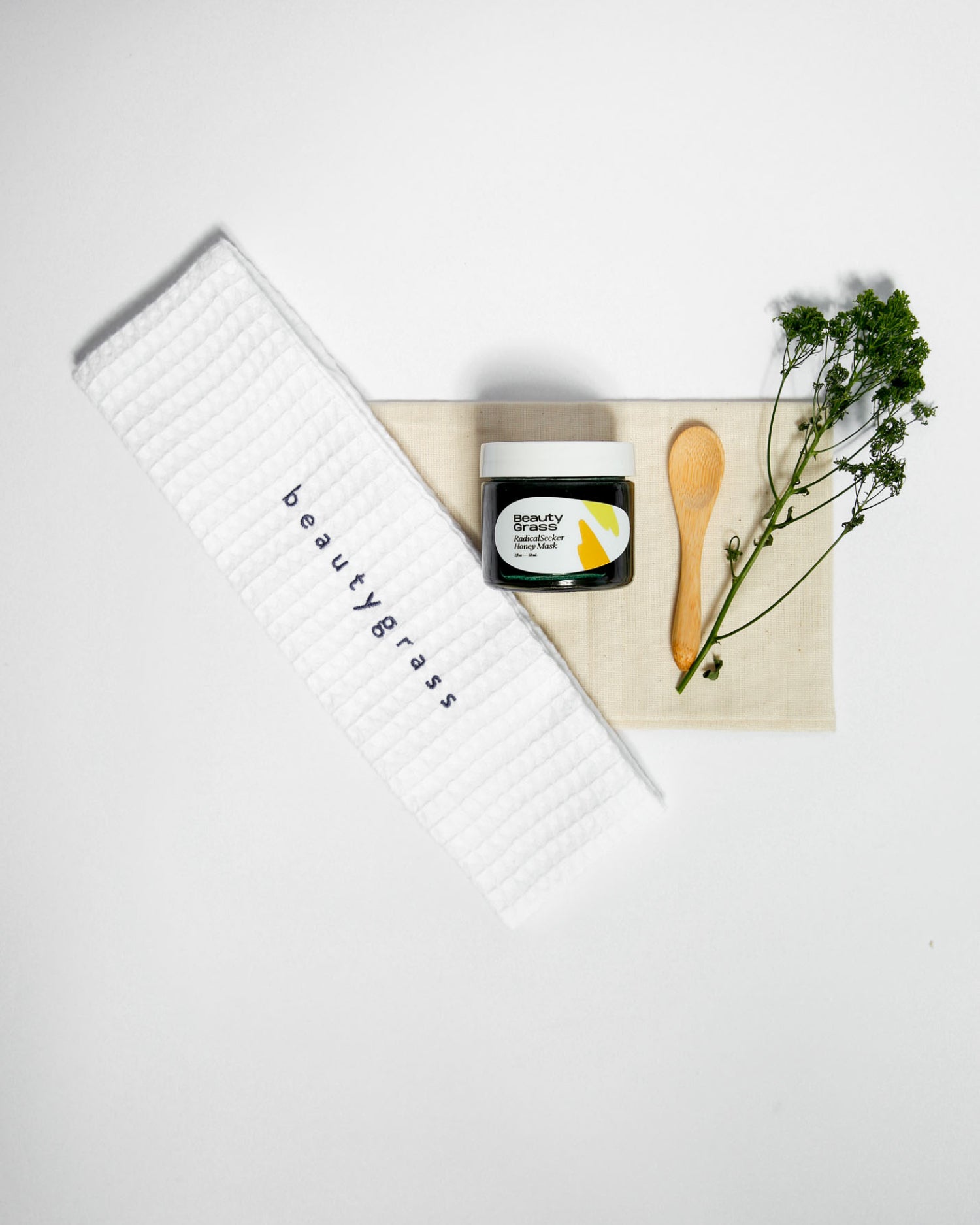 Radical Remedy Ritual Kit
Description
Ingredients
Who's It For
Made for clearing pores and minds.
Packed with — RadicalSeeker Honey Mask, Bamboo Spatula, Cotton Washcloth, Embroidered Headband, Limited Edition BeautyGrass Pouch
The Radical Remedy Ritual is your new secret weapon. RadicalSeeker's raw honey is an ancient and powerful skin treatment full of probiotics, pearl powder, antioxidants, and gentle exfoliating enzymes that keep your complexion fresh, nourished and glowing. It's even safe to share with our holiday-weary and sensitive-skin friends. Complete the vibe with the BeautyGrass bamboo spatula, cotton washcloth, and headband. Et voilà!
Cruelty-free | Paraben-free | Phthalate-free | Microbiome-friendly
RadicalSeeker Honey Mask
2 fl oz (59.1 mL) 200 mg CBD
*Raw Honey (Mel), Schisandra Chinensis (Schisandrae Berry) Powder, Centella Asiatica (Gotu Kola) Powder, Pearl Powder, Glycyrrhiza Glabra (Licorice Root) Powder, Arthrospira Platensis (Spirulina) Powder, Coenzyme Q10, Probiotic Powder SBO, Ormus Rose Gold Powder, *200 mg Cannabidiol (CBD) Whole Flower Oil, Cananga Odorata (Ylang Ylang) Oil, *Citrus Aurantium Var. Amara (Petitgrain) Essential Oil, *Schisandra Chinensis (Schisandra Berry) Fr. Oil, Citrus Bergamia (Bergamot) Essential Oil, *Boswellia Neglecta (Frankincense) Oil, *Citrus Clementina (Clementine Oil), *Helichrysum Italicum (Croatian Helichrysum) Oil, *Citrus Aurantium (Neroli) Oil, *Curcuma Longa (Turmeric) Oil
Bamboo Spatula
Cotton Washcloth
Embroidered Headband
You, your sister, your lover and your friends. This honey mask ritual is perfect for nourishing all skin types—even our sensitive-skin friends.
How To Use
The radical remedy is here. Use the headband to sweep up your hair, gently massaging your scalp and forehead as you go—because why not. Mix the Radical Seeker with the spatula to make sure the product is fully blended.

Then warm up a quarter-sized amount of mask with fingertips. Press onto clean, dry skin (mask should have a tacky feeling). This pressing action helps to get the goodness into the dermis—the layer under the surface of your skin—making it work deep within to draw out anything that needs to be released—bad moods included. Relax for 10-15 minutes—for 30, no one's judging. Then wipe mask off by wetting the face towel and sweeping in the direction of your temples. For extra exfoliation, rub is small circles as you go. Repeat up to 3 times a week for blemish-free and smooth perfection. Ahhh, now that's radically better.