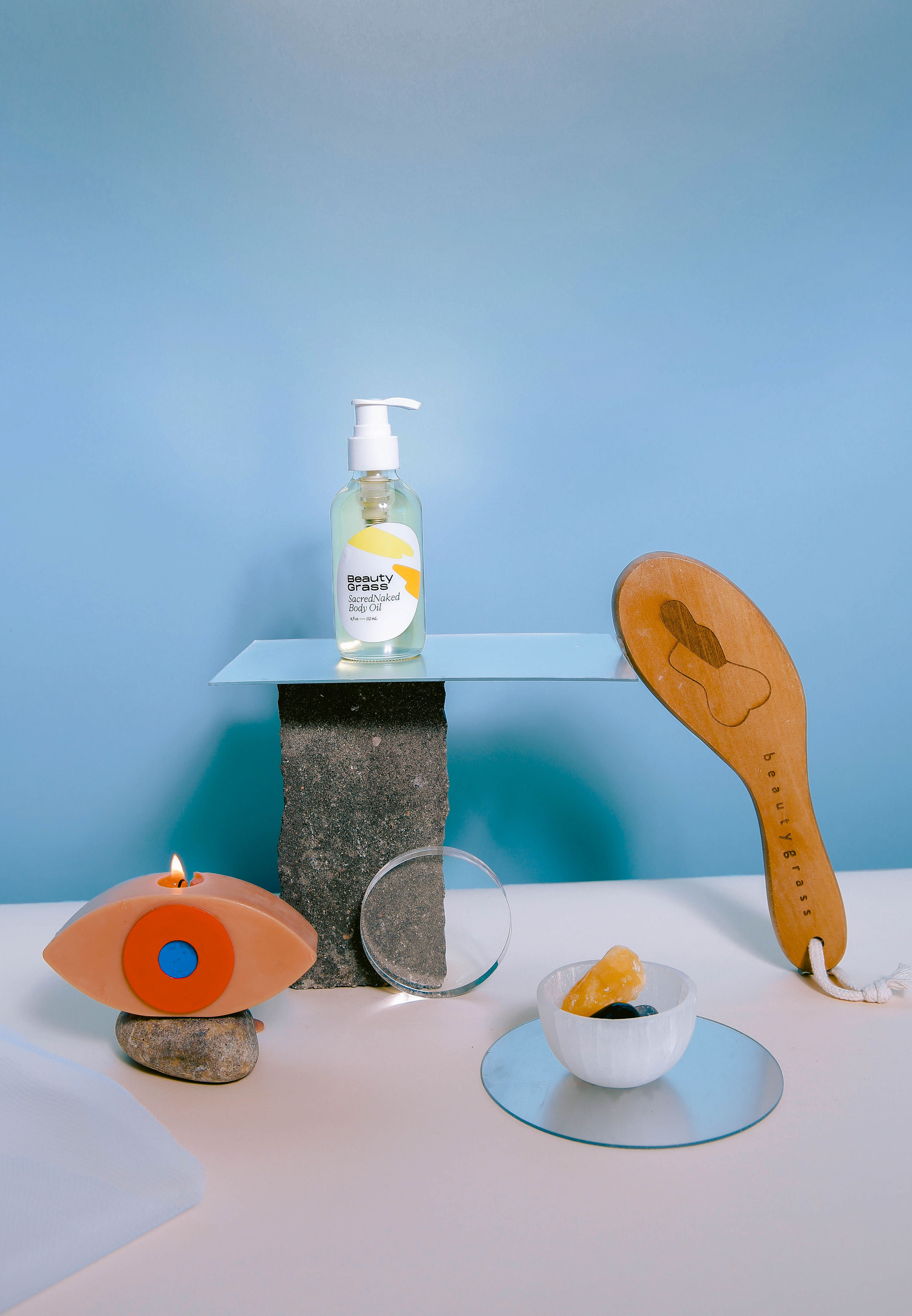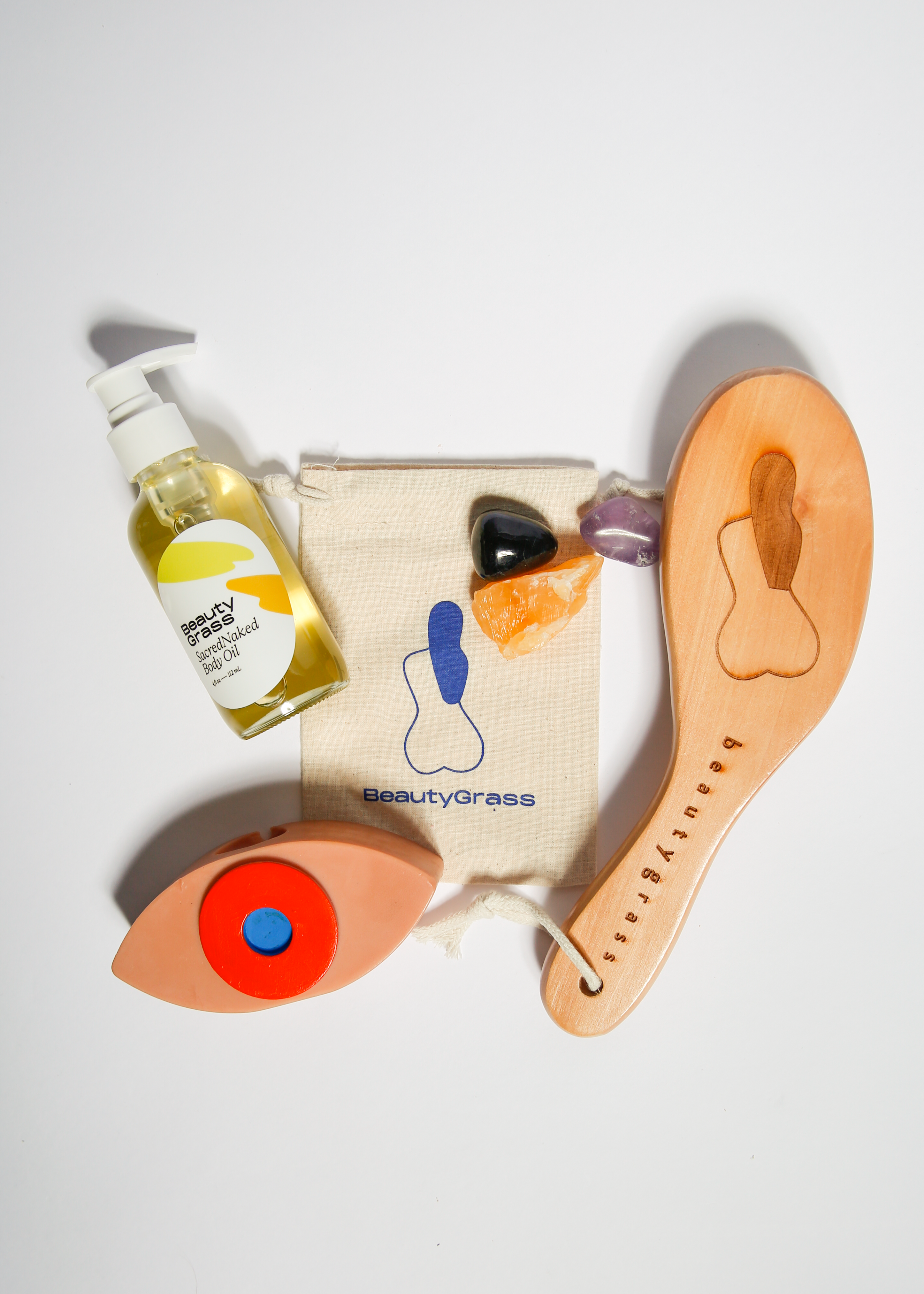 Air Ritual Zodiac Ritual Kit
Description
Ingredients
Who's It For
The kit is made to soothe our deeply rational, highly logical air signs—that's you Gemini, Libra and Aquarius.
Everything in here is perfect for calming your deeply thinking spirit.
This Air Ritual Zodiac Kit features our SeeingEye candle, a full-size SacredNaked Body Oil and a dry brush.
The calming nature of this ritual will whisk you away as you dream up the solutions to the world's opportunities.
SeeingEye Candle
Sometimes the rational mind needs to drift. Our Limited Edition SeeingEye candle is here to do just that—ahhh. Made in collaboration with candle master Davie Ocho Candle Co is scented with rose and Dragon's Blood for powerful self-love vibes. Rose has long been known to connect with the heart. Dragon's Blood has been used for centuries in spiritual rituals to empower the mind and guide inward healing. Best of all? 100% of profits from all our SeeingEye candles will go to Planned Parenthood—because supporting others is the best healing of all.
SacredNaked 
Air signs are known for making decisions easily. And there's no easier decision than a deeply hydrating body oil. SacredNaked is hand formulated to hydrate and nourish skin, giving you that smoothness you've been searching for ever since coming earth side. Full of detoxifying powerhouses like Grapefruit Seed Oil, Broccoli Seed Oil, Sacha Inchi Seed Oil, this oil locks in the good and cleanses away all the nasties. Packed with ayurvedic herbs and essential oils, as you use SacredNaked you're offered the perfect invitation to center yourself in gratitude and the intention of self-love—something you deserve daily in our opinion.

Pro tip: To level up your hydration game, use our SacredLady dry brush to massage the lymphatic system or use beforehand to prep and prepare the skin for the best absorption possible.
SacredLady Dry Brush
Logical Air signs know that there's something deeply therapeutic to repetition and ritual. Dry brushing is a great opinion, especially when combined with an Ayurvedic practice.Dry brushing is heaven-sent for improved skin appearance, exfoliation with a side of stress-reduction and improved circulation. And—yes, there's more—dry brushing promotes lymph drainage, a benefit we can't overstate in terms of overall health. The Limited-Edition SacredLady Dry Brush is engraved with one of our SacredLadies—a daily reminder of self-love. Pair the dry brush with the SacredNaked Body Oil to get the full, magical effects
Cruelty-free | Paraben-free | Phthalate-free | 100% Vegan | Microbiome-friendly
SacredNaked Body Oil
*100+mg CBD per 4oz, *Ashwagandha Root, *Bala Root, Lotus Root, *Shatavari Root, *Licorice Root, *Brahmi/Gotu Kola, *Grapefruit Seed Oil (cold-pressed), *Broccoli Seed Oil (cold-pressed), *Sacha Inchi Seed Oil (cold-pressed), *Amla Oil (cold-pressed), *Rice Bran Oil (cold-pressed), *Prickly Pear Oil (cold-pressed), *Gotu Kola Oil, Non-GMO Alpha-Tocopherol, *Geranium EO, *Lavender EO, *Cypress EO, *Neroli EO, *Palmarosa EO, *Vetiver EO, *Mitti Attar Oil, *White Lotus Absolute Flower

SacredLady Dry Brush
Bamboo paddle and natural boar bristles

SeeingEye Candle
A custom blend of beeswax and soy, all organic, hand painted and scented with Rose and Dragon's Blood
Our Air Sign babes <3 these signs are known for making decisions easily. And there's no easier decision than a deeply hydrating body oil + dry brush situation.
How To Use
For an Ayurvedic practice, light the SeeingEye Candle. Then, use a generous amount of SacredNaked Body oil, applying light to moderate pressure with the SacredLady Dry Brush, massaging the entire body. Working from your head to your feet use long strokes on the long bones and circles around the joints of your arms and legs. Dry brushing is the most effective way to stimulate your lymphatic system.