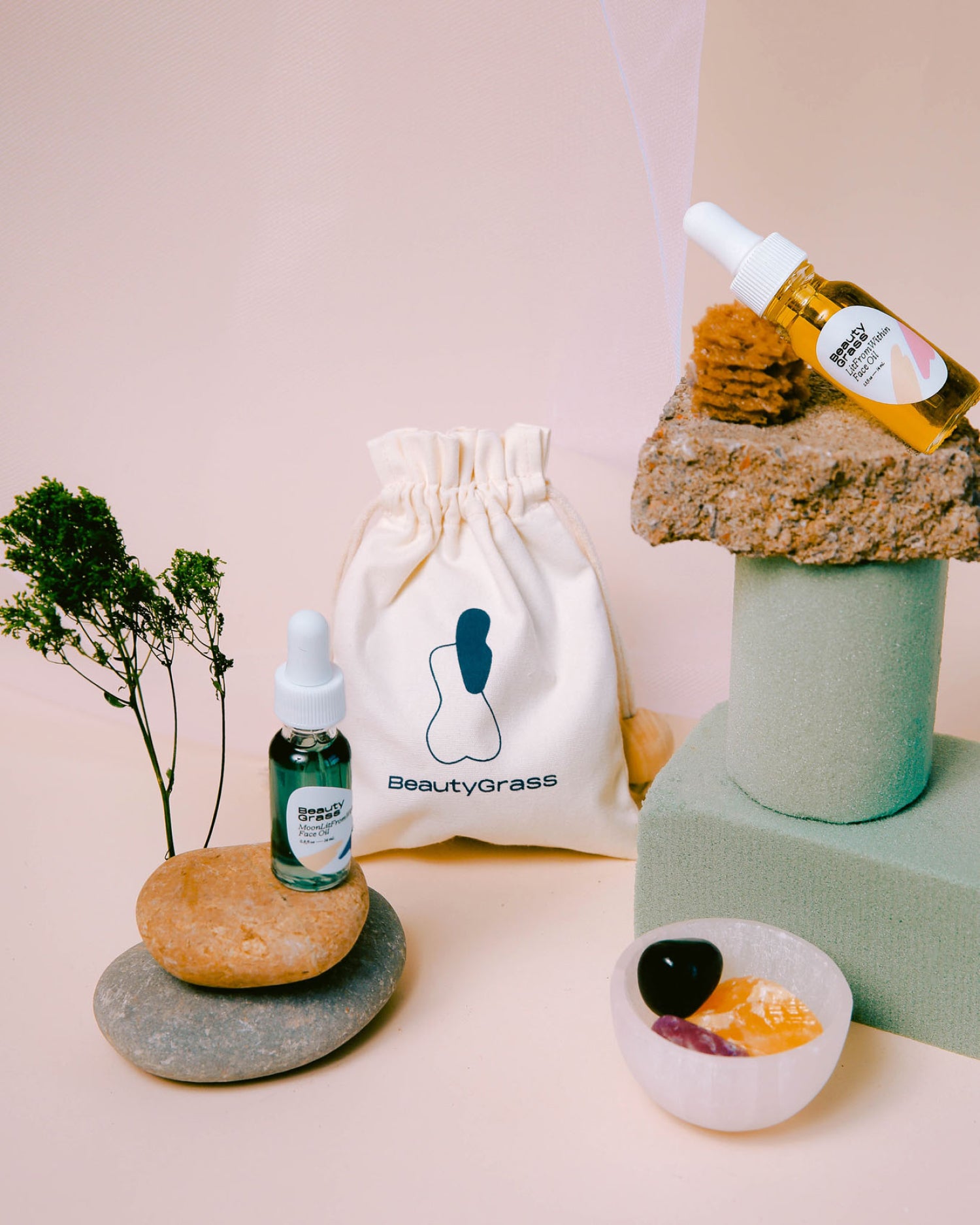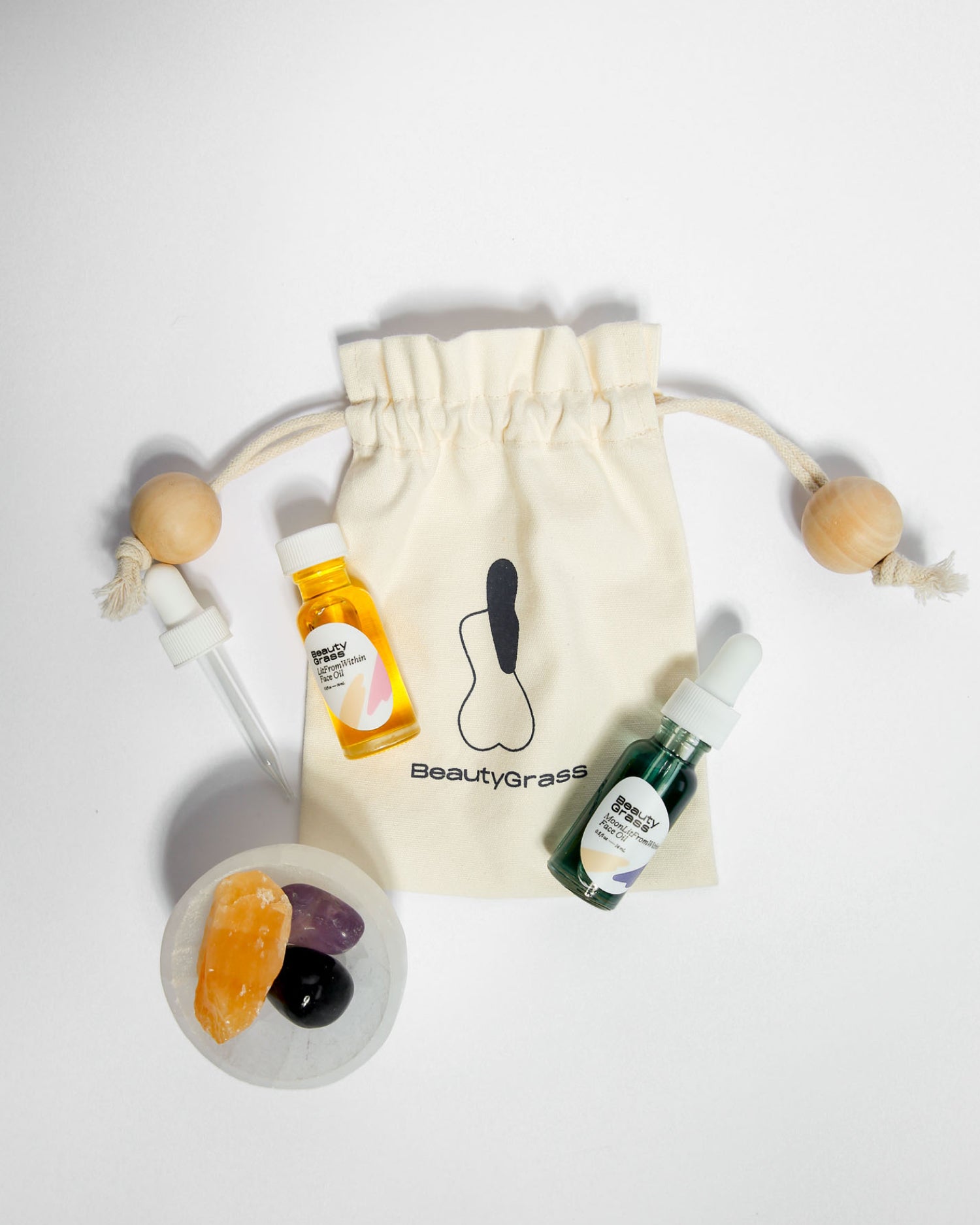 Description
Ingredients
Who's It For
Made for a glow that goes from day to night.
Packed with — LitFromWithin (0.5oz), MoonLitFromWithin (0.5oz), Selenite Crystal Charging Bowl, Orange Calcite, Black Onyx, Amethyst, Limited Edition BeautyGrass pouch
Welcome to a glow that goes from day to night—the ultimate regeneration ritual kit. Our signature LitFromWithin paired with its dynamic duo MoonLitFromWithin will have your skin looking glowier, dewier and more alive than ever. LitFromWithin starts your day off and then we close the evening with MoonLitFromWithin, giving your skin a reboot while you sleep. We've paired all this with a Selenite Crystal Charging Bowl and Orange Calcite, Black Onyx and Amethyst crystals to take your BeautyRest to a dreamy next level.
Cruelty-free | Paraben-free | Phthalate-free | 100% Vegan | Microbiome-friendly
LitFromWithin: *Citrullus Vulgaris (Watermelon Seed) Oil, *Fractionated Cocos Nucifera (Coconut) Oil, *Vitis Vinifera (Grapeseed) Oil, *Punica Granatum (Pomegranate) Oil, *Limnanthes Alba (Meadowfoam) Oil, *Rosa Mosqueta (Rosehip) Seed Oil, *Supercritical Co2 Extracted Hippophae Rhamnoides (Sea Buckthorn Berry) Oil, *200mg Cannabidiol (CBD) Whole Flower Oil, Cananga Odorata (Ylang Ylang) Oil, *Citrus Clementina (Clementine) Oil, *Schisandra Chinensis (Schisandra Berry) Fr. Oil, *Litsea Cubeba Oil, Magnolia Officinalis Folium (Magnolia) Oil, Lonicerae Flos (Honeysuckle) Oil, *Helichrysum Italicum (Croatian Helichrysum) Oil, *Citrus Aurantium (Neroli) Oil, *CO2 Extracted Vetiveria Zizanioides (Vetiver) Oil, *Daucus Carota (Carrot Seed) Oil

MoonLitFromWithin: *300+mg CBD (Cannabidiol (CBD) Whole Flower Oil), *Rice Bran (Oryza Sativa) Oil, *Rosehip Seed (Rosa canina L.) Oil, *Olive Squalane,*Prickly Pear Seed (Opuntia Ficus Indica) Oil, *Broccoli Seed (Brassica Oleracea Italica) Oil, *Kakadu Plum Seed (Terminalia Ferdinandiana) Oil, Bukuchiol (Psoralea Corylifolia Seed) Oil, Melatonin, *Helichrysum Italicum, *Blue Tansy (Tanacetum Annuum), *Clary sage (Salvia Sclarea), Bai Yu Lan Ye, Magnolia, *Ylang Ylang (Cananga Odorata), *Rhododendron, *Rose Otto (Rosa Damascena), *Yarrow (Achillea Millefolium), Non-GMO Alpha -Tocopherol

Selenite Crystal Charging Bowl: Selenite dispels negative energy while enhancing clarity and focus creating a calmer mindset. If you struggle with insomnia or nightmares, selenite may be perfect for you as it increases the frequency of pleasant dreams allowing you to get better quality sleep.

Orange Calcite: Orange Calcite is associated with your physical body and carries healing energy that can repair, restore, strengthen and protect. It also cleanses your body and environment of negative energy in turn boosting vitality, happiness, and awareness.

Black Onyx: Black Onyx is a grounding stone meaning it helps stabilize your spirit, center your energy and control your emotions. If you feel emotionally unstable, Black Onyx can help bring you back into emotional homeostasis.

Amethyst: Amethyst is a stone of spirituality and contentment that enhances spiritual awareness and promotes a higher state of consciousness.
Self-care gurus and ritual-seeking novices. This kit is made for anyone who needs care for their soul and skin.
How To Use
LitFromWithin
Plant Kingdom magic and ancient wisdom. This special elixir is full of anti-inflammatory and antimicrobial super ingredients like Honeysuckle Flower, Watermelon Seed Oil, Ylang Ylang, and CBD, as well as a beautiful spectrum of omegas and plenty of face-saving Vitamin D. It mimics the natural oils of your skin, which allows for enhanced absorption and maximum glow factor. Heavenly levels of anti-aging and skin regeneration, here you come.

MoonLitFromWithin
Get the glow in your sleep—we're not kidding. MoonLitFromWithin is specifically formulated to regenerate your skin while you sleep at night—a time when your skin heals best. During sleep your skin's blood flow increases, the epidermis rebuilds its collagen and repairs happen—MoonlitFromWithin takes this to another level. It's formulated to repair, restore, rebalance, regenerate, reboot and rebuild with anti-aging and ultra-hydrating ingredients line topical Melatonin, Broccoli Seed Oil and Organic Olive Squalane. BeautyRest here we come.

Selenite Crystal Charging Bowl
Drop your gemstones and crystals into this bowl to cleanse, charge and rejuvenate their power. One of Selenite's incredible properties is that it amplifies and purifies the energy of other crystals. Selenite does not need to be cleansed, it naturally transmutes negative energy. This is the reason why it is so beneficial for cleansing and charging. To cleanse your crystals, place them in the Selenite bowls for a few hours—do it daily to keep the good energy strong. And remember, always charge and cleanse your crystals before using them for the first time.

Orange Calcite
Out with the energies that no longer serve you and in with light and positivity. Needing some emotional or physical healing? Orange Calcite coming right up!

Black Onyx
If you often feel ruled by negative emotions like anger, hatred, or resentment Black Onyx can help channel that energy into positivity, creativity, and focus. Needing a positive mindset? Keep Black Onyx close.

Amethyst
Amethyst is well known for its metaphysical abilities to calm the mind while inspiring an enhanced meditative state. Needing some calm and contentment? Amethyst is the crystal for you.